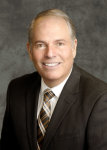 424 SOUTH STATE STREET
OREM, Utah 84058 USA
REAL ESTATE EDUCATION
Agents education and license 1977
Brokers education and license 1980
C.R.B. - Certified Real Estate Broker
C.R.S. - Certified Residential Specialist
Only 2% of all agents have the C.R.S. designation.
REAL ESTATE EXPERIENCE
Over 20 years experience in Utah County Real Estate
Lifetime Member Utah County Association "Million Dollar Club"
"Realtor of the Year" for Utah County Association of Realtors
Listed in "Who's Who in American Real Estate" 1981,1991,1993
Certified Instructor for the State of Utah on Various Real Estate Courses.
PROFESSIONAL ASSOCIATIONS
Utah County Association of Realtors
Utah Association of Realtors
National Association of Realtors
National Association of Real Estate Appraisers
National Association of R.E.O. Brokers
Employee Relocation Council
REALTOR AND COMMUNITY INVOLVEMENT
Past President of the Utah County Association of Realtors
Past Director of Provo-Orem Chamber of Commerce
Past Vice President and Treasurer for the Utah State Assocition of Realtors
Director for the Wasatch Front Regional Multiple Listing Service
Served on the Utah County Commisioners Task Force for Affordable Housing.
Welcome
Take your time and look around. I have created this site to help you find information on buying or selling a home. My goal is to help you find the perfect home at the lowest possible price or to help you sell your current home at the highest price the market will support.
Let Me Help You Find a Home!
This website contains a lot useful information to aid in your home search or to help you in your efforts to sell your home. However, this business is about relationships. Please contact me so that I can answer any questions or give you any tips that you might need. Let me know how I can help you.