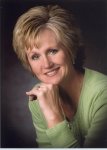 212 S Main, #1
Spanish Fork, UT 84660 USA
Is there anything more important to you than your home and family?
Of course not . . . My home and family are my first priorities too.
That is why it is so important to choose the right agent and brokerage to represent your family when buying or selling real estate. I promise to provide you with the highest standard of hard work and integrity.
EDUCATION
1991 Graduate of Stringhams School of Real Estate
1979 Honor Graduate of Spanish Fork High School
AFFLIATIONS:
Member of the Wasatch Front Regional Multiple Listing Service
Member of the largest referral network in the nation
AWARDS:
Silver Realtor
Silver Master Realtor
Gold Master Realtor
Platinum Master Realtor
Listing Agent of the year
PERSONAL:
Life time Utah County resident.Wife & Mother of 6 children & 9 grandchildren. Hobbies include love of music, reading, spectator sports mom,& making my own home and yard beautiful.
MY FIRST EXPERIENCE WITH A REAL ESTATE AGENT
As a young girl growing up, we moved a lot as my parents bought and sold different homes. At one particular open house, the Real Estate Agent was preparing our home by turning on all the lights. We were planning as a family to leave the house and let the Agent do his thing. I wasn't quite ready to leave and was still putting on my makeup in my bedroom when I heard the agent coming up the stairs. Thinking that I couldn't possibly let him see me in this condition, I quickly tried to climb under my bed to hide. It didn't take long to discover that my bed wasn't high enough off the ground to enable me to hide completely. I watched under the bed as the Agent opened my door and turned on the light. "Please don't notice that I have a lamp on my nightstand" I said to myself. Too late, he was already coming around to the other side of the bed. To his astonishment, he found a 12 year old girl laying on the floor with half of her body sticking out from under the bed. He let out a scream that could be heard throughout the house. When my parents entered the room, the Real Estate Agent was still standing over me. He was white as a sheet and his body was shaking. I hadn't uttered a word up to this point. How was I going to explain this one? I started to sob! They would never understand the 'no makeup thing'! Needless to say, the open house was a success and our home was sold. Many years later, I have learned a very valuable lesson from this experience. I never hide under the bed, and I always take precautions when holding open houses on my listed properties!!
Welcome
Take your time and look around. I have created this site to help you find information on buying or selling a home. My goal is to help you find the perfect home at the lowest possible price or to help you sell your current home at the highest price the market will support.
Let Me Help You Find a Home!
This website contains a lot useful information to aid in your home search or to help you in your efforts to sell your home. However, this business is about relationships. Please contact me so that I can answer any questions or give you any tips that you might need. Let me know how I can help you.