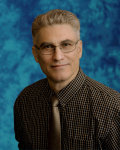 424 S State St
Orem, UT 84058
Gary has chosen to work at Osmond Real Estate Inc. because of the company's commitment to provide good, honest service to clients and customers from its landmark State Street location in Orem.
His aim is to identify client needs and goals, and then focus on properties that best fit their personal situation.
Gary has worked as an award-winning and newsroom-motivating journalist in Southern California. He reported, edited and presented business news with Inland Empire Business Journal/Inland Empire Television News in Rancho Cucamonga and Ontario, then worked in various capacities at the Daily Press in Victorville.
At the newspaper, he served as the special sections editor, producing weekend automotive and real estate sections and other advertorial pages and publications. He worked with real-estate sales agents and their homeowner clients to showcase residences for sale.
Returning to newsroom work, he reported and edited news about local, regional and state government, land use and planning, water, utilities and transportation.
Gary is a former member of the National Association of Real Estate Editors and the Society of Professional Journalists. Prior to working as a journalist, he was trained in the Century 21 system of residential sales and worked briefly as a Realtor in north Orange County, California.
He's lived in Utah County since 2015 and seeks to enhance the community's quality of life through civic involvement and by helping clients with informed real-estate transactions.
Let Me Help You Find a Home!
This website contains a lot of useful information to aid you in your home search or to help you in your efforts to sell your home. However, this business is about relationships. Please contact me so that I can answer any questions or give you any tips that you might need. Let me know how I can help you.